The brief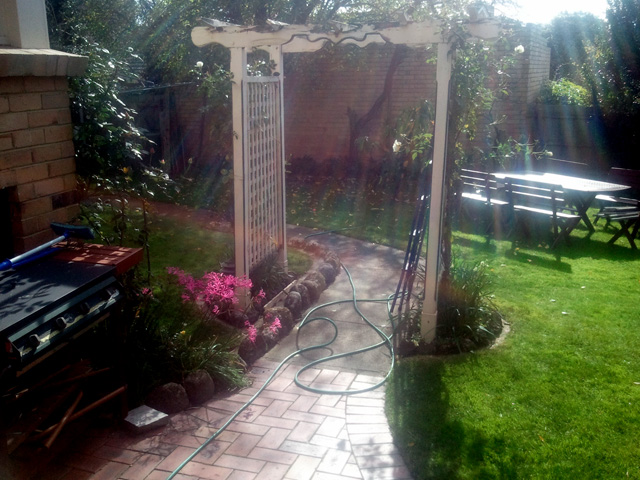 On the first visit to this property at Mont Albert North, I knew this client was a keen gardener. The garden was full of well-tended azaleas, roses, clipped lawns and a thriving vegetable garden.
However, in the back garden several problems needed attention: an old timber arbour was rotting, a concrete path was very drab, and a large section of the lawn was wasted space.
The client wanted more garden bed, a replacement arbour, and a more interesting backdrop for backyard entertaining.
The response
The design called for an expansive entrance to the backyard, which we achieved this with the construction of a large, open cypress pine pergola. Planted with climbing roses and ornamental grapevines, it invites visitors further into the garden. We matched the existing Victoria blue brick paving, extending it to the pergola to create a generous path to the entertaining area.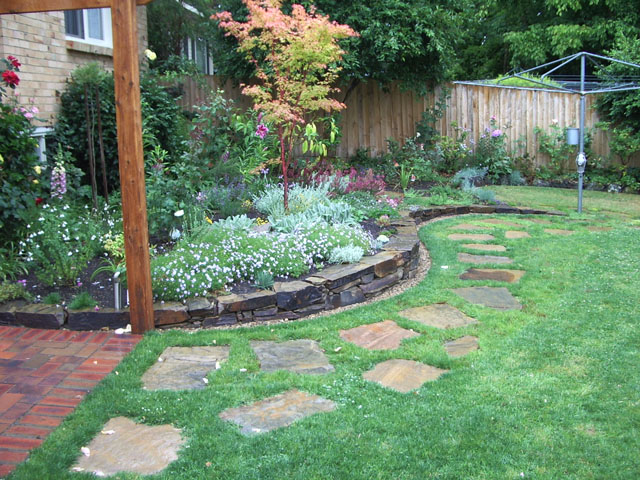 A delightful feature is a new dry stone wall, constructed from stone quarried in Castlemaine, which supports a new raised garden bed with a stunning Coral bark maple as its centrepiece. Gently curving around the garden, the wall recedes into the ground as though it has always been there. We used Castlemaine slate stepping stones, matching the new stone wall, to replace the drab concrete path to the existing clothes line.
Visual interest is maximised by an eclectic mix of surrounding plants including Geraldton wax, kangaroo paws, rosemary, lavender, lamb's ears, brachyscome and gardenias.
Testimonial
Thanks so much for everything and for the transformation of the garden. I very much appreciate all your efforts and generosity and am delighted with the finished result. I cannot thank you enough for the great job you did and the privilege of being able to help out from time to time. It was fun being able to work in with you. Once again so many thanks for a job exceeding expectations.
Gallery
Click here to find out more about cottage gardens, or read about another featured project – the Blackburn billabong.